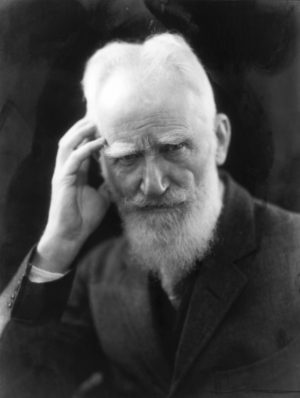 American Dissident Voices broadcast of June 13, 2015
by Kevin Alfred Strom
TODAY I am going to devote this program to the ideas of a man whose vision was the precursor and inspiration for Dr. William Pierce's Cosmotheism — George Bernard Shaw.
Shaw (pictured), like many geniuses such as Ezra Pound, can sometimes appear confounding and contradictory. Shaw had his "GBS" persona and he did use satire, even laughing at his own positions through the characters in his plays at times. That's the kind of thing you do when you have a 200 IQ — and, as Shaw quipped, when you are missing the phrenologists' "bump of veneration." With evident exasperation at the slow progress of human and social evolution, he endorsed any dictator in sight — "men who get things done" — as preferable to damnable democracy. He took public positions that were designedly shocking, and it's easy to use the more extreme among these to attack him, as Crazy Glenn Beck and the other leaders of Conservakin have done.
But Shaw's position on the primacy of the Life Force and improving the quality of human beings was a deeply serious one.
As a young man, he was an atheist. He later said he needed that stage in order to clear his mind of childish and obviously untrue myths. But in his mature years, Shaw openly espoused a religion — he playfully called it "Shawianity" — in which he posited that God is a work in progress: something yet to come, something that is even now evolving. He said that what he called the Life Force was trying to make man more and more godlike, and that this was the real meaning behind biological evolution.