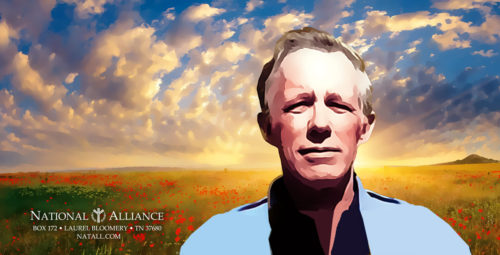 An address given at the commemoration of the 83rd birthday of William Luther Pierce; The Land, September 2016

by Kevin Alfred Strom
LET US recite our Cosmotheist Affirmation:
There is but one reality.
That reality is the Whole.
It is the Creator, the self-created.
I am of the Whole.
I am of the Creator, of the self-created.
My purpose is the Creator's purpose.
My path is the path of the Creator's self-realization.
My path is the path of divine consciousness.
My destiny is godhood.
We are here to celebrate the birth of the man who first spoke those words 42 years ago — the man who brought into being this real-world intentional White community, which he called The Land — the man who 30 years ago consecrated this very building to the cosmic purpose symbolized by the Life Rune on its northern face — a man who will be remembered as a teacher, prophet, and the founder of the religion of the future — Dr. William Luther Pierce.