Members and supporters can now donate to us with their credit or debit cards online by signing up and opening an account with MoonPay.
Sign up is quick and straight-forward and the interface is very easy to use – just go to moonpay.io or moonpay.com; click on "Personal" at the top of the page next to the MoonPay logo; then click on the blue "Buy Crypto" button a little further down the page.
Note, you are not actually buying crypto-currency and you don't need a crypto-currency wallet or any experience with crypto-currency; you'll never actually hold any cryptocurrency – the procedure is just like any other credit card payment you have ever made.
Step One.
Make sure "Bitcoin" or "BTC" is displayed as shown in the first figure below – it should be the default in which case there is no need to change anything. Then enter the amount in US dollars. Note there is a fee which can be displayed. Then press continue.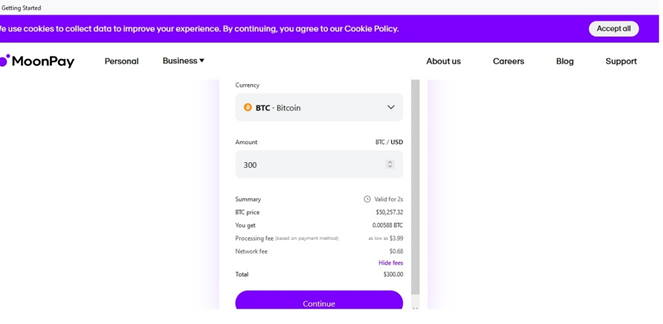 Step Two.
The only extra information required is our "Bitcoin" or "BTC" wallet address which can be copied from below and pasted into the appropriate field as shown in the figure below.
bc1qwn4gus44065r7xrs88rxn9fvxnr5xrlmndsqgh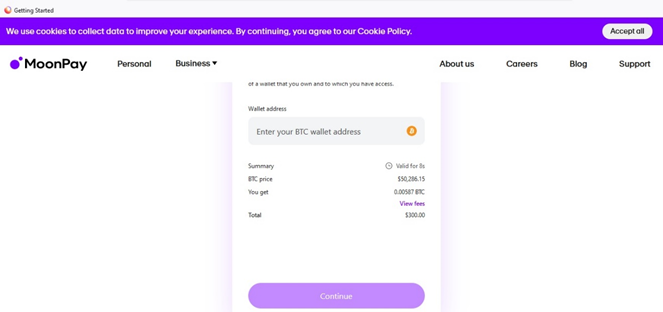 Step Three.
Normally, you only are required to perform Steps One and Two but when doing this for first time, you will be required to enter additional information associated with the sign-up procedure, which takes around three minutes.